The Pierre Elliott Trudeau Foundation Unveils its 14 Remarkable Scholars for 2023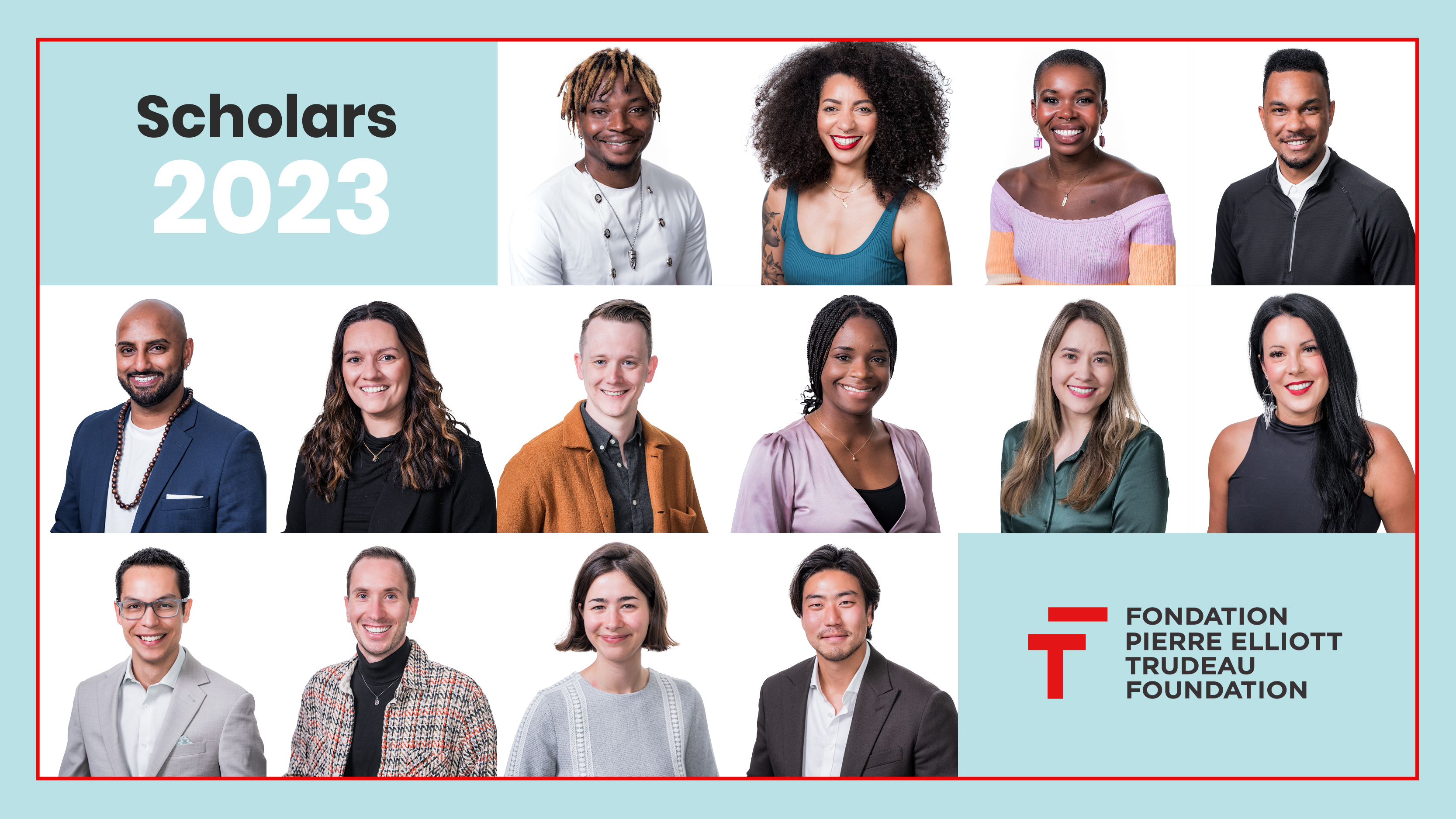 Montréal, June 27, 2023 —The Pierre Elliott Trudeau Foundation is pleased to reveal the 14 Scholars from Canada and around the globe selected to take part in its Engaged Leadership Program. This three-year leadership curriculum is designed to train Engaged Leaders, equipping outstanding doctoral candidates with the skills to translate their ideas into action, for the betterment of their communities, Canada, and the world.
Along with a place in the Leadership Program, the Foundation will provide its 2023 Scholars with generous financial support over the next three years as well as academic resources, mentoring, and opportunities to acquire greater proficiency in Canada's official languages (French and English) as well as Indigenous languages.
The Foundation received close to 500 applications this year from Canada and 55 other countries on every continent, representing 44 universities in Canada and 34 elsewhere. Over the course of a rigorous selection process, 30 finalists participated in a retreat including individual interviews and group activities on their path to being selected. This remarkable group of 14 Scholars, representing 10 universities, were chosen based on their academic excellence, leadership and engagement, willingness to engage with a plurality of perspectives, and their agility and resilience.
"Our demanding selection process is designed to identify candidates who are unafraid to tackle complex issues, recognize their own blind spots, and who share a real desire to build a harmonious society and democratize knowledge" said Elizabeth Rivera, Chief of Operations at the Foundation. "These 14 new Scholars superbly personify the Foundation's commitment to the principles of Engaged Leadership, which are so essential to establishing genuine dialogue with communities across the country and making real progress rooted in a diverse range of perspectives", she added.
Representing a wide range of disciplines these men and women will focus on the subject of "Canada in the World" for the next three years, assisted by the eight new Fellows and Mentors, leaders from academia and across sectors and selected through a separate process. They will accompany the Scholars on their three-year leadership journey.
About the Pierre Elliott Trudeau Foundation

The Pierre Elliott Trudeau Foundation is an independent and non-partisan charity established in 2001 as a living memorial to the former prime minister. In 2002, with the support of the House of Commons, the Government of Canada endowed the Foundation with the Advanced Research in the Humanities and Human Sciences Fund. By granting doctoral Scholarships, awarding Fellowships, appointing Mentors and holding public events, the Foundation encourages critical reflection and action in four areas important to Canadians: human rights and dignity, responsible citizenship, Canada's role in the world, and people and their natural environment.

For more information: 
Communications@TrudeauFoundation.ca