The Pierre Elliott Trudeau Foundation cherishes the ongoing relationship with past Scholars, Fellows and Mentors. The Foundation maintains meaningful ties with alumni, inviting members of this unique community to host and participate in events, sit on strategic committees, and, in some cases, serve  on the Board of Directors. The Foundation is committed to maintaining a special connection with alumni and keeping them engaged in Foundation activities in meaningful ways across Canada and beyond.
Reflective of the Foundation's 2019-2024 Strategic Plan, the Executive Committee of the Alumni Network aspires to have a representative balance between anglophone and francophone members, Indigenous representation, to maintain gender parity, and to reflect the diversity of the Foundation community. With representation from across Canada as well as international members, the Alumni Executive offer perspectives from different parts of the country and abroad.
Objectives
The Pierre Elliott Trudeau Foundation Alumni Network aims to promote lasting connections with the Foundation community for the ongoing support and development of the Foundation and its broader community, including participation in events, committees, and development opportunities, as well as active involvement in the creation and sharing of knowledge related to the promotion of the values and key concepts of the Foundation's leadership curriculum.
Accomplishments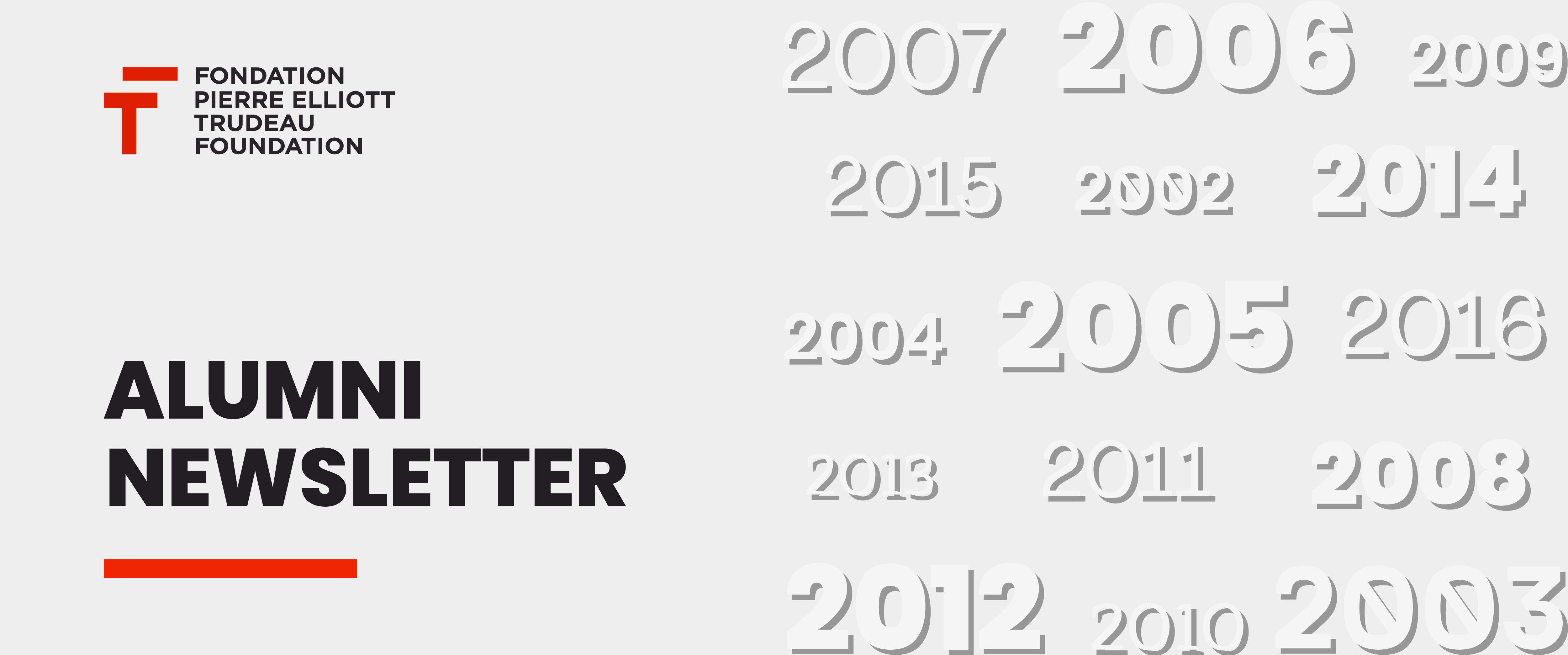 2020 Alumni Newsletter: Collective Worlds in an Age of Turbulence
In May 2020, the Alumni Executive oversaw the launch of a new Alumni Newsletter. Designed to foster the ongoing relationship alumni have with the Foundation in building a better tomorrow, the newsletter offers intellectual content that is creative, critical, and inclusive as alumni offer their knowledge on the present and the past. Read the reflections from the co-editors, Sophie Thériault and Libe García Zarranz: Making Collective Worlds in an Age of Turbulence
2021 Alumni Newsletter: Spaces of Affect and Change
This installment of the PETF Alumni Newsletter seeked to spark a critical and creative conversation about joy from an aesthetic and ethical perspective. The editors opened the call for contributors with three central questions: How can we carve collective spaces of joy at a time of struggle? Can joy become a subversive tool of resistance? Can joy lead to transformative social change?   Read the full newsletter here
Testimonials
Watch some testimonials from the Foundation's Alumni
The committee is composed of former Scholars, Fellows and Mentors from the Foundation's community who are wonderful ambassadors. On behalf of the entire community, the Foundation wishes to thank and acknowledge their generous contribution.
Executive Committee of the Alumni Network (Membership as of July 26, 2022)
Members of the Committee, from left to right:
First row: Alain-G. Gagnon (2010 Fellow), Libe Garcia Zarranz (2010 Scholar and co-editor of the newsletter), Patti Laboucane-Benson (2004 Scholar)
Second row: Jean Lebel (2016 Mentor), Milad Parpouchi (2017 Scholar and Co-Chair of the Committee), Sophie Thériault (2003 Scholar, Co-Chair of the Committee and co-editor of the newsletter)