Leading Canada's Human Rights Response to the COVID-19 Pandemic
On June 25, 2020, as part of the Spaces of Engaged Leadership webinar series, Pierre Elliott Trudeau Foundation Scholars were presented a virtual panel discussion featuring human rights leaders from across Canada, under the theme "Leading Canada's Human Rights Response to the COVID-19 Pandemic".
Hosted by Christine Hanson (2019 Mentor), CEO of the Nova Scotia Human Rights Commission, the discussion featured Marie-Claude Landry, Chief Commissioner of the Canadian Human Rights Commission, Kasari Govender, British Columbia's first independent Human Rights Commissioner, and Philippe-André Tessier, who is President of Quebec's Commission des droits de la personne et des droits de la jeunesse. Laya Behbahani (2020 Scholar) provided closing remarks.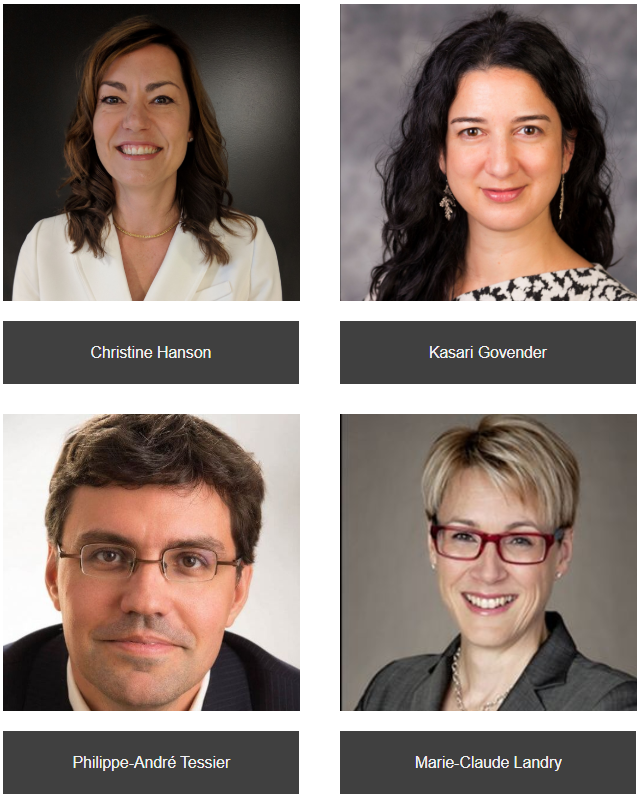 Magnified Human Rights Issues
Marginalized communities in Canada face systemic human rights issues which have been exacerbated by the COVID-19 pandemic, remarked Marie-Claude Landry. Concurring with this view, Kasari Govender notably highlighted that the pandemic has had a disproportionate effect on women, as many of the lay offs affected women, especially racialized women. She observed that people living in poorer and more densely populated areas, as well as incarcerated populations, have not had the option of physical distancing, and have thereby faced greater health risks.
Philippe-André Tessier spoke about the challenges faced by some children during confinement, notably the lack of access to computers, reliable Internet connections, and quiet places for home schooling. He also underscored the challenging situation for elderly people who have had severe restrictions imposed on their mobility rights.  
Marie-Claude Landry noted that the pandemic has presented the opportunity to prioritize human rights and work to influence the shape of new legislation to prevent the creation of additional barriers post-pandemic.
Laya Behbahani broadened the session's discussion by commenting that Canada must also ensure respect for human rights beyond its shores. She noted the involvement of Canadian companies in Dubai, based on her doctoral research, where migrant workers have been living in crowded and closed quarters with no possibility of maintaining social distancing during the pandemic.
Leadership in Times of Crisis
Questioned on leadership in times of crisis as leaders of human rights organizations, Marie-Claude Landry, Kasari Govender and Philippe-André Tessier offered the following advice:
Listen, be flexible, and ensure confidence and transparency within organizations;
Prioritize human rights within organizations as staff are also dealing with the stress of the pandemic and facing mental health pressures;
Be in contact with youth leaders and grassroots organizations to better understand their needs and transform them into action.