Rita Deverell: The Gift of History
Rita Deverell, 2011 Mentor, reflects on her mother's life teachings and how relevant they can be for all of us in these uncertain times.
A couple of days before the pandemic isolated us, and a blizzard raged where I live, I happily travelled to Collingwood, Ontario for a Black History Month talk/book signing. The organizers, Sylvia and Carolynn Wilson, descendants of early black settlers to the Blue Mountains, are featured in my 2019 book American Refugees: Turning to Canada for Freedom. I told their very racially diverse Heritage Community Coffee Club about my mother being honored by her Houston, Texas high school's Wall of Fame.
When my cousin who lives in Houston first insisted that I nominate mother for the Wall my reaction was: "Why? I'm very busy, mom is no longer on the earth and won't know, and I don't need to have her recognized!" Cousin then talked straight to me: "Oh, it's the present students at Phillis Wheatley High School, who have no idea of the strength of those early black students, who don't even know who Phillis Wheatley was, who need the tribute to your mother!"
I got that. Here is an excerpt from my gift of history from the class of 1935 to students in 2020.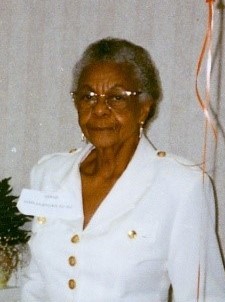 VERSIE POWELL SHELTON
Phillis Wheatley Graduating Class of 1935
Trailblazer, Secretary, Office Manager, Program Coordinator, Department Head, Political Activist, Civic Leader, Volunteer, & Mentor
Spend a little time visiting the archives of Versie Antoinette Powell Shelton in the Metropolitan Research Center, Houston Public Library, and you will be convinced that Versie strongly believed three things:
One:
In 1930s – 1990s Houston "No" to a Black person was just a stop on the way to a "Yes" or "maybe" or "we'll give it a try" answer.
Two:
In Versie's life and career, and for the many she mentored, reaching 30 or 60 or 90% of your goals was much better than reaching 0%.
Three:
Education, the best and the most lifelong education one could obtain, is the biggest protection against the evils of this world. Those evils include major racism and sexism.  As the daughter of Hugh and Versie Powell Shelton, I was frequently on the receiving end of her deeply held beliefs. To illustrate: In 1961, when the day came for me to take the SATs (Scholastic Aptitude Tests) so I could go "away" to university, I said I had a terrible stomachache. The exams were administered at still segregated Rice University and the Houston schools were of course still segregated. Versie countered my supposed illness forcefully: "I don't care if you die, you are going to take those tests." That was the last time I had to be told that the cure for professional troubles was to increase my skills. Versie spread this wisdom about education to the many she mentored in Houston.
Versie Powell Shelton's heritage is Phillis Wheatley High School, named for the slave poet who overcame most everything. As the preface to Wheatley's first book of poetry states:
"WE do assure the World, that the POEMS specified in the following Page, were written by Phillis, a young Negro Girl, who was but a few Years since, brought from Africa, and has ever since been, and now is, under the Disadvantage of serving as a Slave in a Family in this Town. She has been examined by some of the best Judges, and is thought qualified…"
Versie always moved forward with and towards the qualified, and taught others to do the same. We can too.