The 2020 Application and Nomination Review Committee
Now more than ever, the Pierre Elliott Trudeau Foundation is deeply grateful for the devoted and critical role the Application and Nomination Review Committee (ANRC) played in the selection of our 2020 Scholars, Fellows, and Mentors.
Led by chairperson Mona Nemer, Canada's Chief Science Advisor and a leading intellectual in the field of public health, the 15 extraordinary individuals who compose the ANRC are engaged and outstanding members of the Foundation community, academics and research leaders from institutions across the country.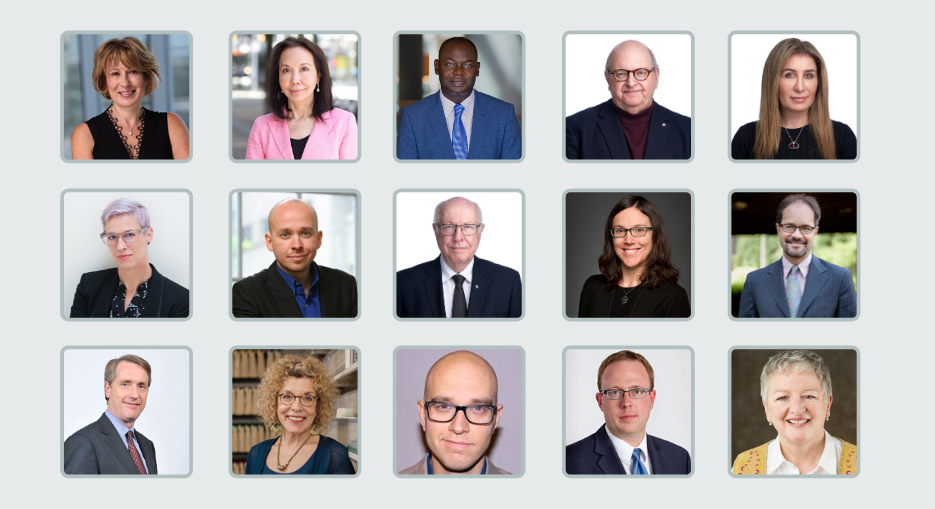 Mona Nemer
Rosalie Tung
Sanni Yaya
Thomas Axworthy
Bessma Momani
Anna Korteweg
Robert Huish
John English
Sophie Thériault
Jean-Francois Gaudreault-Desbiens
John Coleman
Shana Poplack
Sébastien Jodoin
Dwight Newman
Karen Barnes
The dedicated examination by ANRC members of the 2020 Scholars, Fellows, and Mentors resulted in the selection of exceptional new members and ambassadors of our unique and extraordinary community. They distinguish themselves through their research, teaching, and direct, front-line engagement in the issues and ideas confronting our society.

Based on our strategic plan, our Scholars were selected not only for outstanding academic achievement, but also for truly setting themselves apart for their critical thinking skills, a willingness to take risks, their radical curiosity, their talent for collaboration and a commitment to building a better and more inclusive world.
They will be guided and taught by our Fellows, who stand out as preeminent public educators, talented researchers and dynamic professors; and by our Mentors who distinguish themselves as engaged leaders and innovative actors from a broad range of professions and backgrounds.
The Foundation thanks ANRC members for their diligence and dedication in their critical role in this year's selection process that has made our outstanding community even stronger through its excellence and diversity.